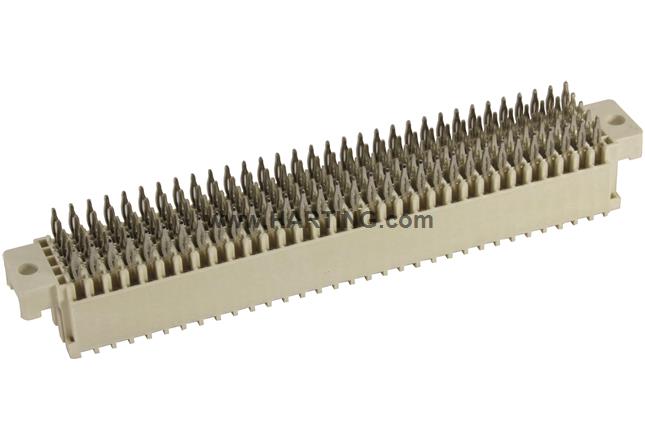 Image is for illustration purposes only. Please refer to product description.
DIN-Signal harbus64-128FP-5,0C1-2
Connectors, Female connector, Press-in termination, Rated current: ‌1 A, Contacts: 128, Straight, Copper alloy, Noble metal over Ni, Mating side, Ni, Termination side, Performance level: 2, acc. to IEC 61076-4-113, PCB fixing: With fixing flange, Liquid crystal polymer (LCP), Beige
Part number: 02 02 128 2201
Please login or register for a free MyHARTING Account to see all information about product availability and your order.
Category

Connectors

Series

har-bus® 64

Element

Female connector

Description of the contact

Straight

Features

lead-free
Termination method

Press-in termination

Connection type

Motherboard to daughtercard

Number of contacts

128

Contact configuration

Rows a, b, c and z, positions 1, 2, ... , 31, 32

Termination length

4.5 mm

5 mm

PCB fixing

With fixing flange
Contact rows

5

Contact spacing (termination side)

2.54 mm

Contact spacing (mating side)

2.54 mm

Rated current

‌ 1 A

Rated current

Rated current measured at 20 °C, see derating curve for details

Clearance distance

‌1.2 mm between 2 rows (a, b, c)

‌1.2 mm between 2 rows (d, z)

‌1.2 mm between 2 contacts in a row (a, b, c)

‌1 mm between 2 contacts in a row (d, z)

Creepage distance

‌1.2 mm between 2 rows (a, b, c)

‌1.2 mm between 2 rows (d, z)

‌1.2 mm between 2 contacts in a row (a, b, c)

‌1 mm between 2 contacts in a row (d, z)

Insulation resistance

>1010 Ω

Contact resistance

≤20 mΩ for rows a, b, c

≤30 mΩ for rows d, z

Limiting temperature

-40 ... +105 °C upper limiting temperature limited by the pcb

Insertion and withdrawal force

≤ 160 N

Performance level

2

acc. to IEC 61076-4-113

Mating cycles

≥ 250

Test voltage Ur.m.s.

1 kV

Isolation group

IIIa (175 ≤ CTI < 400)

PCB thickness

≥1.6 mm

Hot plugging

No
Material (insert)

Liquid crystal polymer (LCP)

Colour (insert)

Beige

Material (contacts)

Copper alloy

Surface (contacts)

Noble metal over Ni Mating side

Ni Termination side

Material flammability class acc. to UL 94

V-0

RoHS

compliant

ELV status

compliant

China RoHS

e

REACH Annex XVII substances

No

REACH ANNEX XIV substances

No

REACH SVHC substances

Yes

REACH SVHC substances

Lead

Potassium 1,1,2,2,3,3,4,4,4-nonafluorobutane-1-sulphonate

California Proposition 65 substances

Yes

California Proposition 65 substances

Nickel
Specifications

IEC 61076-4-113

UL / CSA

UL 1977 ECBT2.E102079

CSA-C22.2 No. 182.3 ECBT8.E102079

Railway classification

F1/I2 acc. to NFF 16-101/102
Packaging size

20

Net weight

20.85 g

Country of origin

Germany

European customs tariff number

85366990

eCl@ss

27460201 PCB connector (board connector)
Data sheet

Type sheet

Product Declaration Certificate

Type sheet

CAD data 3D