This product is not orderable anymore. Contact your local distribution partner for alternatives.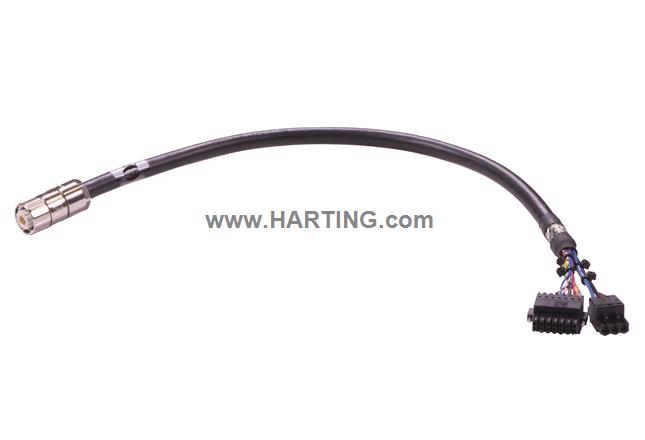 Image is for illustration purposes only. Please refer to product description.
Hybridcbl. Dunker LAiO1 20,0m
Pre-assembled on both sides, Copper cable, (round), Largely oil resistant, Silicone-free
Part number: 61 88 720 0001 2000
Please login or register for a free MyHARTING Account to see all information about product availability and your order.
Specification

Pre-assembled on both sides

Connector 1

LP 14 + 7-pin

Connector 2

M16 (female) 12 + 3-pin

Type of cable

Copper cable (round)

Description of the cable

Largely oil resistant

Silicone-free

Features

Stranded
Cable length

20 m

Core structure

CH [<2(2 Li9Y 0.22 mm²) + 3 Li9Y 0.22 mm² + 2 Li9Y 0.34mm² + (2 Li9Y 0.34 mm²) > VlCVl + 3 Li9Y 1.50 mm²] VlCVl11Y

Field of application

for hybrid function
Limiting temperature

-20 ... +80 °C unmoved

-5 ... +80 °C moved
Material (cable)

PUR (polyurethane)

Colour (cable)

Black

RoHS

compliant with exemption

RoHS exemptions

6(c): Copper alloy containing up to 4 % lead by weight

ELV status

compliant with exemption

China RoHS

50

REACH Annex XVII substances

No

REACH ANNEX XIV substances

No

REACH SVHC substances

Yes

REACH SVHC substances

Lead
Specifications

IEC 60332-1 Flame retardancy
Packaging size

1

Country of origin

Germany

European customs tariff number

85444290

eCl@ss

90909090 Interim classification (unspecified)